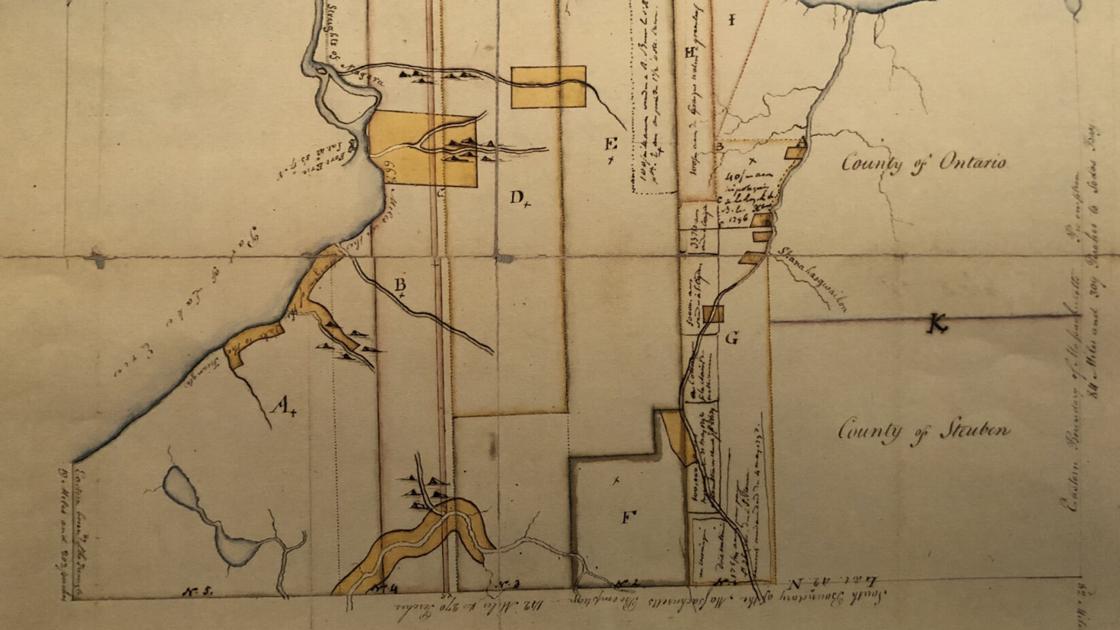 The HLOM Story: The Treaty That Shaped Western New York | Lifestyles
Holland Land Office Museum
From August 20 to September 16, 1797, negotiations were held near today's Geneseo site that would change the landscape of Western New York forever.
A contract would eventually be signed at a place called Big Tree, which would be the final piece in the Holland Land Company's acquisition of the lands west of the Genesee River.
The gain of the land company would be a terrible loss for the Seneca living there, as their land rights would be extinguished with months of back and forth. Within three years of signing, the first buyers arrived from the east, and the Seneca were forced into the reservations that still exist more than 220 years later.
The negotiations did not actually take place between the Seneca and the Holland Land Company, but were initiated by Robert Morris, who owned the area prior to 1797. Morris was desperate to sign a deal to finally sell the land and pay off its immense debts. The final standstill was the appointment of a federal treaty commissioner, provided by President George Washington.
Delegates from both sides began to arrive at the agreed location, which was now the residence of William Wadsworth, a cabin on the Genesee River, near Geneseo. Almost 3,000 Seneca would arrive to attend the trial and even build a meeting house on site. Many great sachems were in attendance including: Red Jacket, Cornplanter, Young King, Farmer's Brother, Handsome Lake, and Little Beard. Various clan mothers were also in attendance, such as Mary Jemison. Representatives of the various American interests were: Jermiah Wadsworth, who represents the United States; Thomas Morris, who represents his father; Theophilus Cazenove, Paolo Busti, and Joseph Ellicott of the Holland Land Company; along with fellow government officials and interpreters Horatio Jones and Jasper Parrish.
Negotiations finally opened on August 28, and each side exchanged speeches about their expectations, with Red Jacket speaking for the Seneca and Thomas Morris for his father. However, with all the words spoken, the key details of a proposed deal were vague at best. The talks became almost catastrophic on September 1, when the first whiskey introduction took place, with any disturbance suppressed after the alcohol was destroyed.
After order was restored, serious negotiations began, but breaks soon became apparent. Morris met privately with the friendlier Seneca leaders, and also met separately with Red Jacket, who were strongly opposed to selling their land. The promised payment from Morris was $ 100,000 in silver coins, which many, like Cornplanter, were eager to accept.
While Red Jacket continued to hamper perceived progress, Morris met with the Clan Mothers in attendance, particularly Mary Jemison, at the behest of many other prominent sachems. Your contribution seemed to have made the difference and led many more to advocate for a contract.
On September 12, the meetings revolved around the size and location of the various reservations that would emerge from the negotiations. After Joseph Ellicott drew up a detailed map and Seneca's claims were reduced, a deal was finally struck on September 16.
The final terms of Big Tree's contract, signed by more than 50 chiefs present, would be for Seneca to cede the right to 3.25 million acres, more than 5,000 square miles, for $ 100,000 in U.S. bank stocks, along with payments for livestock and other goods. Also 200,000 acres, 337 square miles, would be reserved for 10 reservations. Six of these would be along the Genesee River (Canawaugas, Big Tree, Little Beard's Town, Squawky Hill, Gardeau, and Kaounadeau) and four in western New York (Cattaraugus, Allegany, Buffalo Creek, and Tonawanda).
Ryan Duffy is Executive Director of the Holland Land Office Museum in Batavia. His "History with the HLOM" column appears twice a month in The Daily News.